What does it take to be one of the best developers in your country? Apart from delivering high-quality software solutions and services, our team also passionately dedicates themselves to making sure our clients are satisfied and happy with the end product. With over 16 years of experience in the industry, you can count on Inventale to handle your development needs.
As a matter of fact, today is an important day for us. We are pleased to announce that our company has been recently named as one of the best custom software development companies in UAE by none other than Clutch.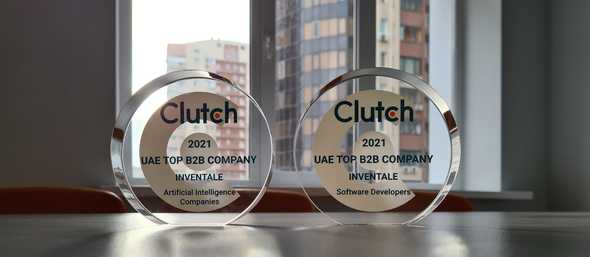 For everyone that doesn't know Clutch, they are hugely respected within the B2B space for connecting small, mid-market, and enterprise businesses with service providers that fit their needs.
Being highlighted by Clutch is surely inspiring for us! To further discuss and receive this award, here is our CEO and Founder Igor Minakov:
Inventale is delighted to receive this award from Clutch. We have been doing many exciting projects in the MENA region for several years and are extremely happy and proud that our work has found recognition. Our team will keep up delivering high-quality software solutions and is looking forward to new challenging opportunities.
Lastly, we would like to give our clients and partners a huge shoutout! Thank you for believing in us and trusting us with your company since day one. We appreciate your support and we are looking forward to a fruitful partnership moving forward.
Need a hand with your project? Let's talk! Share with us your ideas via the form below and let our team help you in making them into reality.